Moving an existing office into a new space can be very taxing on your resources. At the first hint of an impending relocation, the vendors start flooding your switchboard with phone calls, wanting to sell you everything from new furniture to phone systems. Dealing with scores of persistant salespeople is the last thing you and your employees need while trying to make this type of transition and still continuing to operate your business. SOS Systems has managed moves and relocations for companies of all sizes, and we can do as much or as little as you need. When you look at all of the services and materials needed to change your physical location, and all of the individuals you must stay in contact with as the "go live" date approaches, it makes sense to simplify things and let the professionals at SOS take on the responsibility of seeing that everything goes smoothly.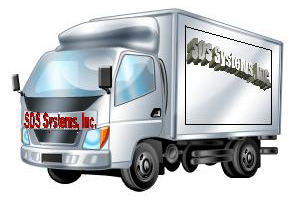 We identify and interview prospective vendors, and field the calls that your company would normally have to deal with. We create Requests for Proposals for everything you will need: Voice and Data services, Moving Contractors, Security and Alarm services, Waste Disposal services, Low-Voltage Cabling services, Office Furniture, Storage facilities, temporary staffing, Cleaning services, Telephone Systems, etc. SOS then evaluates the proposals and presents the strongest bids to you for further action. We arrange interviews with the most qualified vendors and allow them to present their proposals to you and your company for final approval. We then work with the selected vendors to ensure that all work is done according to your timeline and budget.
When the move date nears, SOS begins to plan out the actual move of furnishings and equipment. Our IT support staff will carefully take down your existing network and set it back up in the new space, following a tried and true method of asset control and tagging we have used on past moves that involved hundreds of computers and related accessories. When your staff reports to work on the first day in the new location, we are onsite to make sure that everything is operational and functioning at a high level.
SOS Systems takes control of your relocation project and saves you valuable time and resources. Instead of burdening your staff with extra duties, let them continue to do what they were hired for: keep your business running efficiently and effectively.